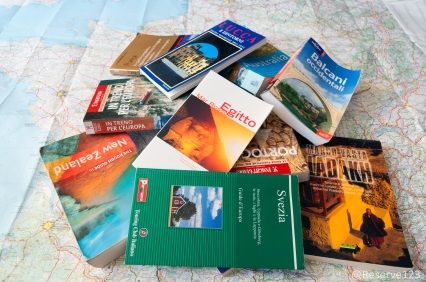 We recently ran across this an article claiming that guidebooks will soon be a thing of the past. As we enter the digital age, print sales are steadily declining, and most media outlets are shifting towards a stronger online presence. Newsweek and PC Magazine have both ended their print subscription services, and other publications might soon follow suit. These days, most travelers have traded traditional maps for a GPS or mobile mapping applications.
So, what does this mean for guidebooks? Will they soon disappear like the traveler's check? Will this generation's children be solely dependent on digital devices for travel guidance? We sure hope not.
Here's a handful of reasons why guidebooks can't quite be replaced.
1. It's a one-stop-shop.
Guidebooks literally serve as your full escort through your destination. They come equipped with transportation information, rail and bus schedules, photos, maps highlighting the hotspots, lodging options, cultural advice, and more. When you're on the go, having everything in one handy location is easier than having to switch back and forth from one mobile app to another. Sure, they have downloadable guidebooks these days, but scrolling through all these details will likely drain your battery.
2. They're not dependent on a WiFi Connection.
This applies especially if you're traveling abroad. Seeking out a restaurant, coffee shop, bar, or any other public space to find a connection can non prescription viagra be a pain, but unless you plan to pay those hefty roaming charges, chances are you'll be banking on some WiFi to bridge your phone, tablet or laptop to the inter-webs. Guess what? You can page through that guidebook all you want, without being connected to the internet. All you'll pay is one flat rate for the book itself, and you have direct access any time you need it. That's a sweet deal.
3. Gadgets are frequently stolen. Books? Not so much.
Unfortunately, theft happens. Travelers get distracted by sights, signs, street performers and other unfamiliar surroundings, and it's highly unlikely a thief will want that printed publication you're carrying. What happens if your mobile gadget of choice gets swiped while you're sitting in the park, on the first day at your destination? How will you navigate the city? If something like this does happen, swing by a hotel and ask for a guidebook. It'll help get you through your trip.
Do you use guidebooks? Share your reasons why!
Happy travels!
*Photo via iStockphoto